2022-01-13 15:10
CopyBet 2021 Performance
CopyBet 2021 Performance
2021 is over, and it's time for CopyBet to overview what we accomplished over these 12 months. There is no denying it, the global impact of the pandemic made this year a challenging time. The only way for the CopyBet team to be able to continue our success story was to stand together, double our work efforts, and get closer to our customers. This is what helped us to finish the year with great results.
In 2021, we focused on the main idea of CopyBet – to make betting accessible, easy, and interesting for everyone and from anywhere. To aim for that, we continued developing our CopyBet website as well as the Mobile App. Would you like to check all the benefits you can get with our updated Mobile application? Download the CopyBet App from AppStore or Google Play and check all its amazing features.
Another big realm that we gave much of our attention to in 2021 was our Sportsbook platform. We gave our all to create such a Sportsbook that would be a reliable source of information in sports betting and a great place to try your own betting strategies.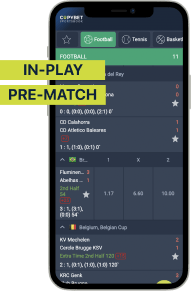 To give our players freedom in placing bets, in 2021, we introduced a wide range of new sports events. Today, CopyBet Sportsbook offers more than 40 sports types, covering all related pre-match and live matches.
Every day, players visit our Sportsbook to enjoy betting – whether they want to check today's football odds, bet on football, or other sports they love, everyone gets what they are looking for at CopyBet Sportsbook.
Developing in this way, CopyBet continues to be that special place that gathers bettors of any range and experience. It is a unique platform where players copy bets, Tipsters find new Followers, bettors invent and run their brilliant betting strategies, and everyone can savour betting safely and at ease.
The fact that in 2022 we are shortlisted for the iGB Affiliate London Award is one more piece of evidence that we are on the right track. Our users include a fair portion of beginners, so we strive to make the user experience easy and safe right from the start. To encourage all newcomers who make first passes in sports betting and ensure you the most risk-free betting experience possible, we are happy to roll out the following promotion:
Free Bet Offer for New Players
To make you enjoy your first stakes to the fullest, we give you 4 x £10 free bets once you sign up and place a bet of £10. So you can feel more confident while placing your first bets without worrying about practising with real funds.
How Do I Get Free Bets?
1

Sign up with
CopyBet and verify
your Profile
2

Place a qualifying
bet at our
Sportsbook
3

Get 4 free bets,
worth £10 each
Free bets are your perfect chance to place all the bets you wish risk-free! Keep in mind that your first bet on your account must be a Qualifying Bet/s!
How Does Free Bet Offer Work?
Imagine you want to use one of your £10 Free Bets by placing it on your favourite sports event. If you place a bet with an odd of 1.5 and your sports team wins, you will earn £5. Your profit will be transferred to your Wallet. (Pay attention that the original free bet stake is not returned to you.) If your team doesn't win, you do not lose anything. A win-win deal!
Enhanced Odds
There is one more wonderful opportunity we are happy to present. Starting January 2022, CopyBet will boost the odds of 3 sports events every Thursday. This is your chance to benefit from attractive odds on popular sports matches like the Premier League and Bundesliga! Subscribe to CopyBet to not miss the weekly enhanced odds offer, or visit our Pre-match page for more details.
As you see, sports betting with CopyBet is easy, safe, and fun, and this year, we'll have even more to offer. Is there something special we have prepared for you in 2022? Certainly! The CopyBet team has great plans and projects for 2022. Stay tuned for the upcoming updates, promotions, and other pleasant surprises on our copy betting platform and Sportsbook. We stepped into the New Year full of optimism and determination to make the world of gaming even more exciting!
Sincerely, CopyBet team.